Nominate Us for 2018 Best of Santa Fe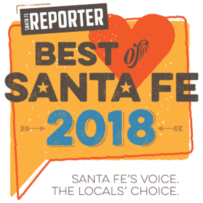 It's February and time to nominate your favorite's for the 2018 Best of Santa Fe.
The Santa Fe Reporter has hosted the Best of Santa Fe awards for more than 35 years and this year nominations can be submitted now through February 28. This year the month of February is the only time open for nominations. In May the top six nominations in each category will be voted for resulting in three winners in each category.
For over 25 years we've been providing healthcare in the Santa Fe area and last year we were nominated and won under the Best Alternative Healing Practitioner category. This year we are requesting that you nominate us under two categories, Best Alternative Healing Practitioner and Best Acupuncturist.
Simply click on the links below and wait for the page to load, scroll down to the nomination box and enter Dr. Jeffrey Meyer, LLC and enter your email into the email box.
Thank you to everyone who nominated us last year and we hope that you will take a moment to do so again. We appreciate your continued support and Be Well.
Best Alternative Healing Practitioner:
http://www.sfreporter.com/bosf/#/gallery?category=1388860
Best Acupuncturist:
http://www.sfreporter.com/bosf/#/gallery?category=1388858